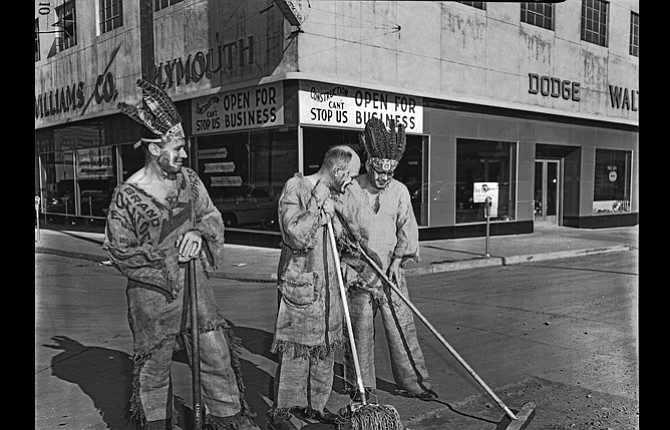 Mike Houser, Diana Ezelle and Gary Conley contributed to this report.
Last week's History Mystery, above, is scanned from a 4- by 5-inch negative from the archives of The Dalles Chronicle.
The information on the envelope reads, somewhat obscurely, "Forth-et-Eight and goofs" on one line, "Mid-Col. Voiture" with "1952" crossed out and 19.5 in the margin on a second line and "Oct. 4, 1952" with the year NOT crossed out as the date.
Mike Houser said it looks like 312 Federal St., which became a Payless Drug Store, where he worked at one time.
Diana Ezelle and others noted that the Walther-William's Hardware Co. buildings were located in the 400 block of East 2nd and 3rd streets downtown The Dalles. The building facing East 3rd is now the Columbia Bank Building and houses the Social Security Administration.
The property was originally purchased in 1906, and the Honald building located in the 400 block of East 2nd was built in 1910.
The Walther-William's Hardware Co. sold such things as farm equipment, wagons and hardware — all sorts of things — and then later one of the first auto dealerships in Oregon. The building they used for the dealership and garage was located in the 400 block of East 3rd, behind the Honald building, and is the section we see in the photo.
The three men in the photo are dressed in Native American Indian costumes made from burlap bags.
It was suggested that one of Pontiacs first car emblems was that of Grand Chief Pontiac of the Ottowa tribe. The Indian motif was discontinued in 1958, several years after this photo was taken.
Conley noted that a ramp allowed cars to be driven upstairs in the dealership.
The sign in the window says that "construction can't stop us — open for business".

Stories this photo appears in:

Looking back on July 24, from the archives of The Dalles Chronicle