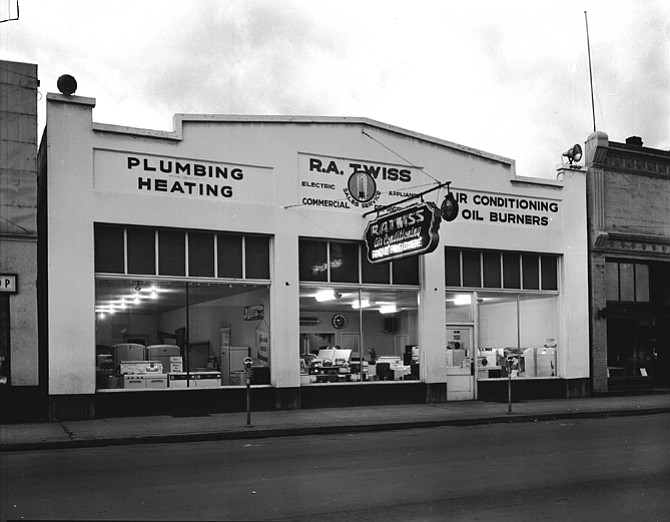 Lucile A. Sephens, Terray Harmon, Caroline Homer, John Wood, Mary Batty, Gary Conley, John Lundell and Randy Hilderbrand contributed this report.
Last week's History Mystery photograh, above, was scanned from a 4 by 5-inch negative from the archives of The Dalles Chronicle. Information on the envelope reads, "Twiss Electric, March 16, 1952."
Lucile A. Stephens of Dufur noted that it is in the building which today houses the 506 gallery on East Second Street, downtown The Dalles. She pointed out that the parking meters, the refrigerators and other items are out of the mid 1950s.
Caroline Homer of The Dalles, said R.A. Twist was a plumber here in The Dalles, in the late '50s, and early 1960s. "I had a house at that time, it was the first house that I bought." She said. "He did some work for me, he was a wonderful plumber. He had a good reputation. Years ago I had a house on 15th Street, I saw lightning hit the water pipe to the house. After that, the water heater stopped working. He came out and looked at it and he said, 'You're right, your water tank was hit by lightning.'"
The R.A. Twist was identified as a plumbing, heating and air conditioning store. Mary Batty noted that it was operated by Twist and his wife alone for many years, and that there are "Twist Apartments" in town from that time period. In addition to plumbing and heating, they repaired appliances, Gary Conley added.
Stories this photo appears in:

Looking Back on March 6, from the archives of The Dalles Chronicle.