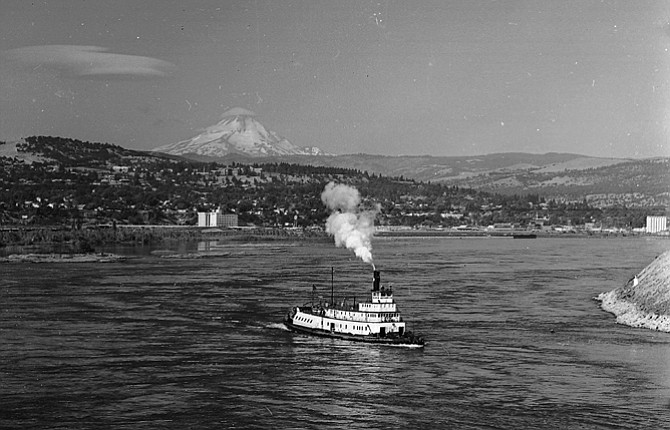 Terray Harmon, Robbie Anderson and a number of others called about this week's History Mystery photograph, above. Due to a user/technical error, a number of reports were lost. Readers are encouraged to submit any stories or memories they have in regards to the Portland tug boat, the subject of the photo.
The image was scanned from a 4- by 5-inch negative from the archives of The Dalles Chronicle/Optimist. The envelope reads, "Steamer Portland, (Oregonian), July 20, 1972." The Oregonian reference was likely a reference to that newspaper, as the Optimist photographer frequently shot photographs on assignment for regional and state newspapers.
Robbie Anderson wrote that "Portland" was a tug boat, the last steam-powered tugboat built. It is now docked at the Tom McCall waterfront park in Portland. "I think it still does tours," he added.
Several people confirmed that last week's "Archive Extra," photo, above, was taken on Second Street downtown The Dalles, looking to the intersection with Federal street. The photograph is looking to the west, however, rather than the east as originally stated.

Stories this photo appears in:

Looking Back on May 15, from the archives of The Dalles Chronicle

Looking Back on May 8, from the archives of The Dalles Chronicle