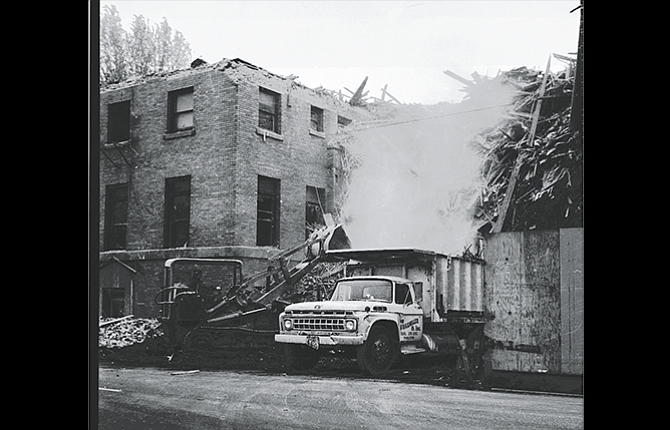 Terray Harmon, Jake Grossmiller, Mary Batty of Dufur, Laurie Grorud Miller, Gary Elkinton of The Dalles, Tom Davis of Redmond, Carolyn Wood, Gary Conley and Casey Roberts all contributed to this report.
Last week's History Mystery, above, pictured the demolition of the Hotel Dalles, located on Second Street, next to the old post office. The photograph was scanned from a 2 ¼-inch by 2 ¼ -inch black-and-white negative from the archives of The Dalles Chronicle. Information on the envelope reads, "Hotel Dalles Demolition, Fall, 1969."
The hotel was torn down single-handedly by Don Grossmiller, according to Jake Grossmiller of The Dalles. Jake's second cousin, Don lived in Pendleton and contracted with the owner to remove the building. He had a TD6 tractor/bulldozer lifted to the top of the hotel, where he cut a hole in the roof, filled it up and drove down to the next floor, Jake said. The process was repeated until the building was removed. Refuse was loaded into the truck seen in the picture. Bricks were cleaned and hauled to Reno, Nevada, where they were sold.

Stories this photo appears in:

From the archives of The Dalles Chronicle

From the archives of The Dalles Chronicle