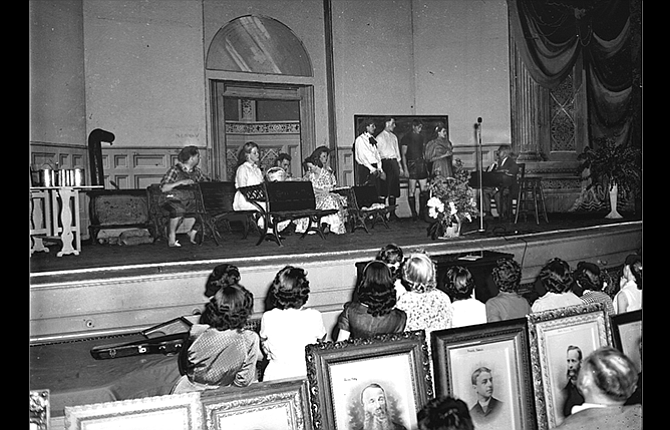 Terray Harmon contributed to this report.
Last week's History Mystery, above, was scanned from a black-and-white 4- by 5-inch negative from the archives of The Dalles Chronicle.
Information on the envelope includes the date, May 3, 1952, and the subject, "Old Wasco Cty. Pioneer Assn." The envelope contained 7 negatives, each with more specific information. Information for the photo above reads, "School room scene of early days, by Whittier Jr. Hi PTA."
The large photographs visible in the audience are portraits of early pioneers. Two early pioneers in one photograph are identified as "Photos of Mr. and Mrs. P.P. Underwood, homesteaders near TD in 1879." Another photograph pictures "Zero Josea Telley, Aleatha Telley, Ben Olney (grandson of Nathan Olney; also son of George Olney, 89, still living); niece of Nathan Olney is Cora Carroll; Bennie Aviles, great great grandson of Nathan Olney, all of White Swan, Wn." Those in the photographs were from as far away as Honolulu and Phoenix.
Stories this photo appears in:

From the archives of The Dalles Chronicle

From the archives of The Dalles Chronicle