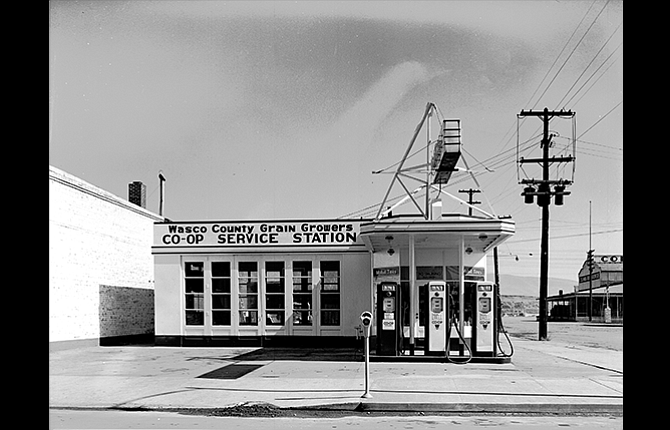 Russ Brown, Michael Houser, Gary Conley, Vern Beito and Terray Harmon all contributed to this report.
Last week's History Mystery, above, was scanned from a 4- by 5-inch black-and-white negative from the archives of The Dalles Chronicle/The Dalles Optimist. Information on the envelope reads, "Wasco County Grain Growers Co-op station, April 1949."
The station was located at Second and Madison, downtown The Dalles, on the northwest corner where Montira's Asian Market is located now.
Russ Brown, The Dalles, said he remembered the station being a large tire store, and a service station prior to that.
Vern Beito said he remembers the parking meters, like the one seen in the photograph, allowed one hour of parking for a nickle. "I remember them well," he said.
Gary Conley said the station later became Richfield Station, there was a Texico on the other side of the street. "A friend of mine ran it for a long time in the 1950s," he said. "That was when you could get a flat tire fixed at the service station."
Michael Houser said he pumped gas across the street at the Shell service station in the 1970s, which was located Rivertap Pub now stands.
Stories this photo appears in:

From the archives of The Dalles Chronicle

From the archives of The Dalles Chronicle