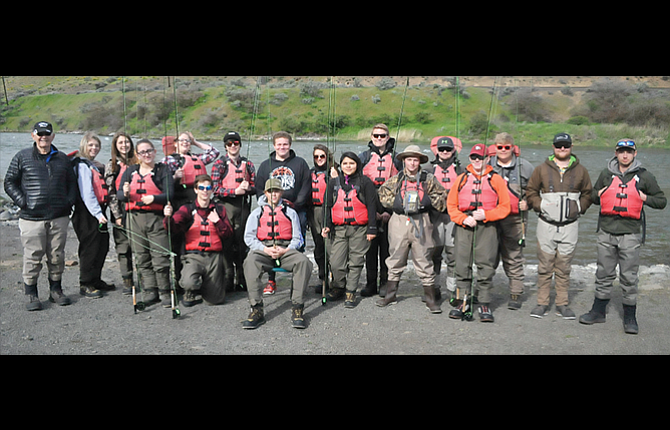 Maupin community members, volunteers and students take part in the South Wasco County High School Fly Fishing class as part of the physical education curriculum. Over the past eight years, students have learned the rules and regulation of the sport. In the photo, from left to right, starting in the back row, Don Jacklin, Jazmin Crowe-Espeland, Ally Muhleman, Madison King, Wilson Wells, Skyler Anderson, Lindsey Hull, Ty Herlocker, Andrew Lindley, Dawson Herlocker, Kris Belozer, and Brandon Wraught.
In the front row are, from left, Kayla Brittain, Keith Kegel, Nick Ward, Codi Palmer, Zane Malefyt, and Austin Wustohoff-Gulzow. Belozer, a 2008 SWC graduate, started the fly fishing program as his senior project and has seen the numbers grow over his time involved.
Stories this photo appears in:

Fly fishing class opens new horizons for local youth
MAUPIN – What started as a senior class project has turned into a popular physical education curriculum. Back in 2008, South Wasco County senior Kris Belozer organized a fly fishing program to help local youth understand the rules and regulations of the sport, while fishing renown bodies of water across the Pacific Northwest. His goal is to establish a baseline where kids gain a love for an activity that will last a lifetime.