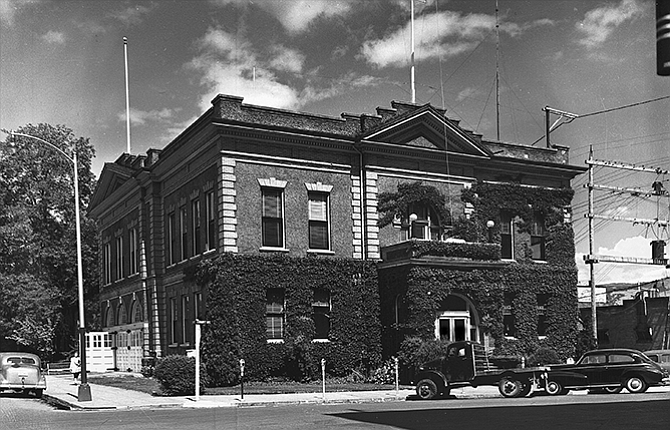 Russ Brown, Mike Kilkenny, John J. Wood, Gary Conley, Mary Batty, Terray Harmon, Lee Langston of Moro, Caroline Homer, Teresa Goff-Lindsay and Reba Barnhouse-Lloyd all contributed to this report.
Last week's History Mystery, above, was taken in 1949 and shows The Dalles City Hall, the front of which was covered with ivy at the time. It was scanned from a 4- by 5-inch negative from the archives of The Dalles Chronicle and was taken by George Lindsay of The Dalles Optimist.
Russ Brown, among many others, noted that the police station entrance was to the right, and the city jail was in the basement. "In 1963, myself and two friends spent the evening in the city jail," he said. John J. Wood added that "the jail was in the basement, and the liquor store was in there in the alley."
Mary Batty noted that you paid your tickets upstairs where municipal court was held on Tuesday nights, and the fire station was in the back facing Third Street.
The photograph was taken from across the street at the Commodore.
Gary Conley noted that the truck looks like an old army surplus truck, and added that they still had parking meters out front back then. Caroline Homer said the truck look like a Ford V8.
Stories this photo appears in:

From the archives of The Dalles Chronicle

From the archives of The Dalles Chronicle