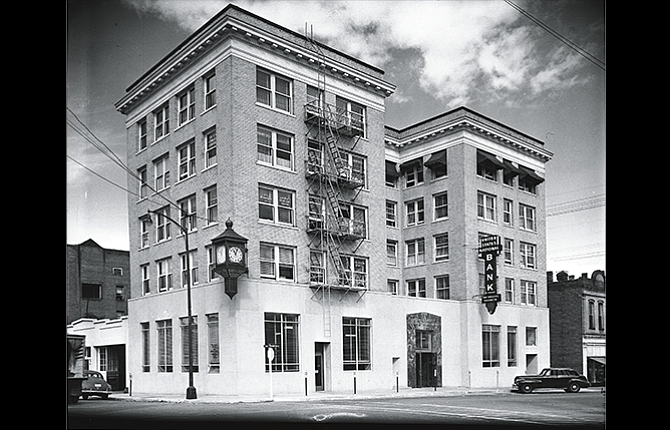 Lucile Stevens, Russ Brown, Laura Comini, Jack, Terray Harmon, Bobetta (Schilling) Stewart, Kathy Ursprung, and Nan Wimmers all contributed to this week's report.
Last week's History Mystery, at right, was scanned from a black-and-white negative from the archives of The Dalles Chronicle/The Dalles Optimist. It is part of a collection taken for the Chamber of Commerce, and is dated 1949. Most of the collection bears the photographer's stamp in red ink, one reading, "GEORGE LINDSAY, 312 Federal Street, THE DALLES, ORE," and another "GEORGE LINDSAY, 'Your Story in Pictures,' 212 Federal ST., THE DALLES, OREGON." The photograph was dated 1949, with no month or day. Other photographs in the collection were dated 1949, in the months of December and April.
The building was the U.S. National Bank building at the Northwest corner of East 3rd and Washington Streets. The lower floor was the bank, the upper floors held professional offices, including doctors, dentists and lawyers.
Russ Brown said his mother owned the Vanity Beauty Shop on the third floor, just above the clock. "As a child I used to run the elevator up and down, the lady that ran the elevator let me run it." The entrance for the upstairs was just to the right of the parked car. There was a dentist across the hall named Dr. Proctor, he added.
Laura Comini said the elevator operator was E. Rose. "It was a big building, it was too bad to see it go," she said.
Bobetta (Schilling) Stewart wrote: "When I was a very young girl, I had to go through the BIG double doors, up the BIG elevator to see my dentist, who traveled up from Portland once a month. He put braces on my teeth, which I hated. It was such a BIG building, you know how things are when you're little."
Kathy Ursprung said the U.S. Bank Building in The Dalles was the first branch bank in the United States it opened in 1933. Before that, banks were stand-alone institutions. For many years after that, many states still did not allow branch banking.
"My mother, Josephine Brown, owned a beauty salon in that building known as the Vanity Beauty Shop not long before it was torn down. I remember visiting her there as a very young child," Ursprung added.
Bill Dodson of Rufus said there was still a clock like the one pictured on the old building in Hood River. He said the building was torn down in the early 1960s. "I helped put the glass into the new building," he said.
The Portland-based bank's history is online at www.pdxhistory.com/html/portland_banks.html.
The building was torn down in the 1960s, according to one caller.
Stories this photo appears in:

From the archives of The Dalles Chronicle

From the archives of The Dalles Chronicle