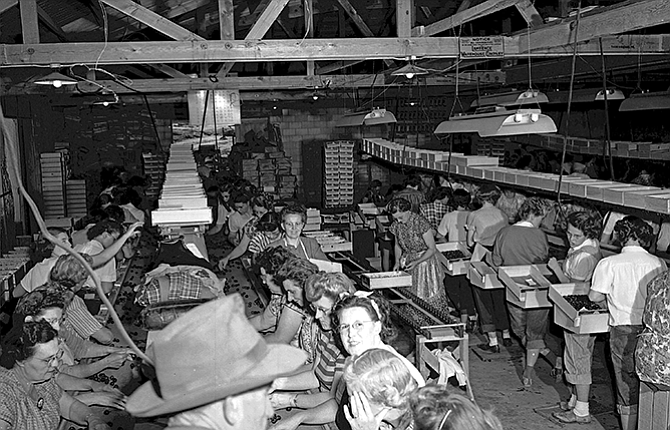 Karen Pholehn, Agnes Brown, Mark Holland, Laura Commini, Lucile Stephens and Terray Harmon all contributed to this report.
Last week's History Mystery, above, was taken by George Lindsay in June, 1949. It was scanned from a 4- by 5-inch black and white negative from the archives of The Dalles Chronicle. The specific location was not noted, but additional negatives in the set show the facility off First Street downtown The Dalles currently owned and operated by Oregon Cherry Growers.
Karen Polehn identified it as The Dalles Cherry Growers, back in the 40s or 50s, a sorting line for first cherries. The building is currently owned by Oregon Cherry Growers. The line was likely in the main floor of the west building, where the big truck unloading parking lot is by the scales.
Agnes Brown said the photograph was of one of the cherry packing lines in The Dalles. She worked packing boxes when she was about 16, and noted that an inspector, who looks like her aunt Mary Fleck, would randomly inspect packed boxes as they sorted and packed.
Mark Holland said it looked like The Dalles Cherry Growers original cherry sorting line, where his grandfather, B. Holland, delivered his cherries using big wooden boxes.
Lucile Stephens also remembered working on a sorting line, in the brine area.
Regarding a previous History Mystery on the old U.S. Bank building, Laura Commini clarified that the name of the elevator operator was Mrs. Ernie Rhodes.
Stories this photo appears in:

From the archives of The Dalles Chronicle

From the archives of The Dalles Chronicle