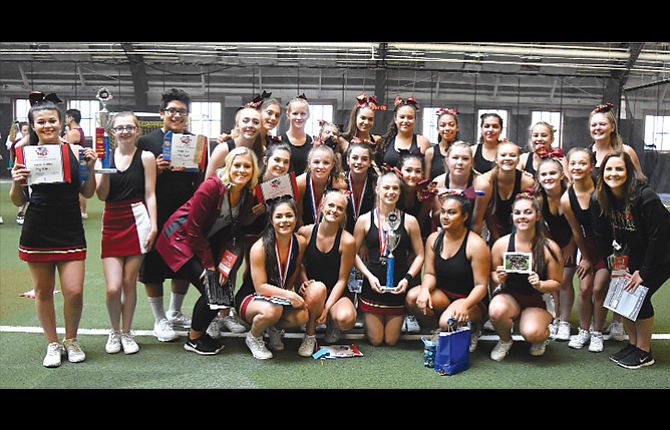 The Dalles cheerleaders won countless team awards and added individual honors at last week's National Cheerleading Association "Get Shocked" Camp at Oregon State University in Corvallis. In the photo are, starting with the top row, from left to right, Mackenzie Smith, Mia Barber, Miguel Torres, Sydney Fransen, Selah Cosgrove, Olivia Thomas, Alex McAllister, Giselle Schwartz, Karla Hernandez, Ariana Acevedo, Regina Keilman, Amber Hillegas, and Lorelay Berry. In the middle row are, from left, head coach Kelsey Sugg, Zaida Lopez, Jordyn Hattenhauer, Emily Adams, Anna Singhurst, Breanna Birchfield, Annabelle Shearer, Emma Koch, Megan Brace and assistant coach Alli Miles. In the front row are, from left, Jessika Nañez, Kendyl Kumm, Samantha Stanley, Shivani Patel and Cary Stone. TD had 11 members nominated for All-American honors, with Nañez and Kumm earning recognition.
Stories this photo appears in:

Nañez and Kumm earn All-American honors in Corvallis
The Dalles senior Jessika Nañez stood shoulder-to-shoulder with fellow senior teammate Kendyl Kumm as All-American winners. While Nañez and Kumm earned recognition, Lorelay Berry (freshman), Mia Barber (freshman), Breanna Birchfield (freshman), Miguel Torres (sophomore), Emily Adams (freshman), Mackenzie Smith (junior), Sydney Fransen (sophomore), Megan Brace (freshman), Samantha Stanley (senior) and Jordyn Hattenhauer (junior) were nominated for such honors.