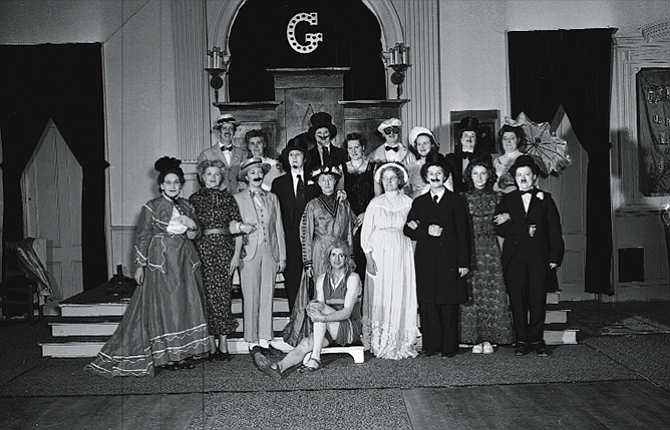 No information was received regarding last week's History Mystery, above, which was scanned from a 4- by 5-inch black-and-white negative from the archives of The Dalles Chronicle. Information on the envelope included "Lindsay-Optimist. Order Eastern Star-costume group. April 23, 1949."
According to Wikipedia: "The Order of the Eastern Star is a Masonic appendant body open to both men and women. It was established in 1850 by lawyer and educator Rob Morris, a noted Freemason, but was only adopted and approved as an appendant body of the Masonic Fraternity in 1873. The order is based on teachings from the Bible, but is open to people of all religious beliefs. It has approximately 10,000 chapters in twenty countries and approximately 500,000 members under its General Grand Chapter."
In regards to the recent photograph of the Link Auction Yard, Jake Grossmiller noted that the first auction yard was located near where Fred Meyer is today, and then moved to Sixth Street. When entering the building, there was a snack bar with hamburgers and coffee to the left, and the auction office to the right. Straight ahead was the sales office. He worked in the sales ring, herding sold cattle from the ring to pens according to the buyer. "After the sale, each buyer would get a pen number so they could load their cattle," he explained.
Stories this photo appears in:

From the archives of The Dalles Chronicle

From the archives of The Dalles Chronicle