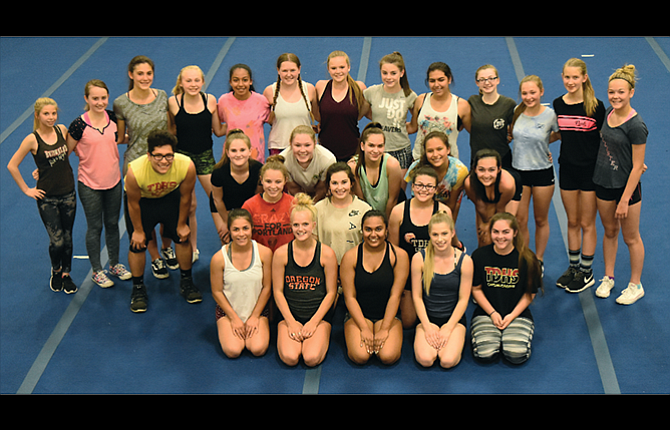 The Dalles cheer squad is back in action for the start of the 2017-2018 season with an expanded roster, including 10 returners, six of them seniors for third-year coach Kelsey Sugg. In the photo are, starting in the back, left to right, Alex McAllister, Amber Hillegas, Selah Cosgrove, Icyss Morgan, Ariana Acevedo, Lorelay Berry, Annabelle Shearer, Emily Adams, Regina Keilman, Mia Barber, Megan Brace, Olivia Thomas and Cadence Snyder. In the third row are, from left, Miguel Torres, Emma Koch, Breanna Birchfield, Giselle Browning-Schwartz, Karla Hernandez and Annalia Singhurst. Kneeling in the second row are, from left, Jordyn Hattenhauer, Zaida Lopez and Mackenzie Smith. In the front row are seniors, from left, Jessika Nañez, Kendyl Kumm, Shivani Patel, Samantha Stanley and Carey Stone. Not in the picture are: Jenifer Salinas-Deras, Stephanie Flores and Sydney Fransen.
Stories this photo appears in:

Large group may be young, but the fire burns for state title No. 13
For the past two seasons, The Dalles cheer team has used back-to-back runner-up state finishes as building blocks for greater future achievements. The drive to work harder and take that next step is there, more than ever, creating a source of motivation, hunger and desire to succeed as the calendar flips to the 2017-2018 campaign.