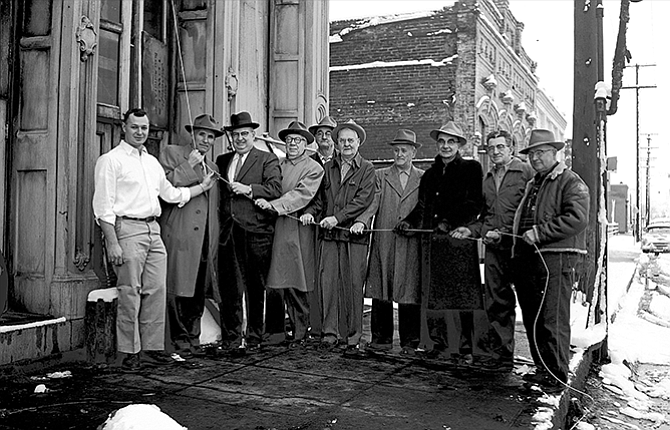 Gary Conley contributed to this report.
Last week's History Mystery, above, was scanned from a 4- by 5-inch negative from the archives of The Dalles Chronicle. Information on the envelope reads "Whistle (Locomotive) at Laundry and RR men and fans, Jan. 14, 1957."
The photograph ran in The Dalles Optimist (5 cents a copy) Jan. 17, 1957. The caption reads, "Authentic 'rails' and a few train fans gathered Monday for the first blowing of the whistle at Model Laundry — which came from a steam locomotive of the Union Pacific and was donated by the Old Timers club. From left: Don Martin, Bill Gale, engineer and Lay Carlisle, jeweler, who would like to be one; Dr. Thomas Griffith; Robert Ford, brakeman; Tom Carson and Bert DeVaney, retired conductors; Geo Vogel, retired machinist; Wes Rowland, motor car repairman, and Wes Botlemiller, section foreman. Optimist Newsphoto."
The Model laundry building is located on First Street between Union and Liberty streets.
Gary Conley correctly identified the building, and five of the men in the picture.
Stories this photo appears in:

From the archives of The Dalles Chronicle

From the archives of The Dalles Chronicle