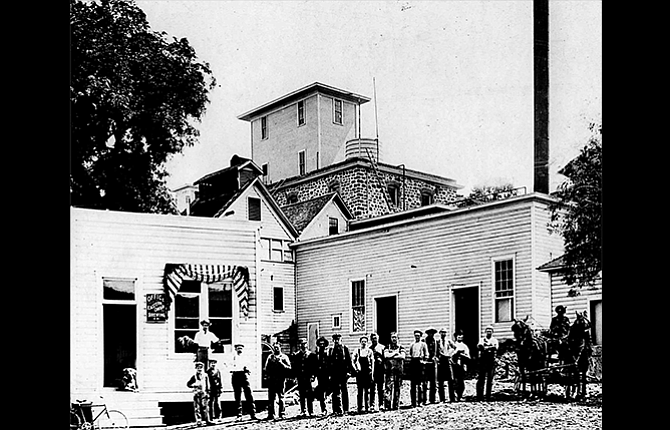 Terray Harmon, Gary Conley, Casey Roberts, Jake Grossmiller and Mark Ulrich all contributed to this report.
Last week's History Mystery photograph, above, was scanned from a print in the collection of the late Wilma Roberts, a long-time photographer in The Dalles.
Information with the print said, "The Dalles Brewery at Brewery Grade. Note stone building in background, storage warehouse."
The sign on the left side of the photo reads, "Office, Eastern Oregon Brewing Co."
The location is at the bottom of Brewery Grade at the east end of The Dalles. One caller suggested the building pictured was in the area of the old Tum-A-Lum building on Second Street and the railroad tracks.
The stone building in the background, which remains today and is currently under renovation, either was connected to the Eastern Oregon Brewery or housed the Columbia Brewery.
Jake Grossmiller spoke of the Schanno Brewery, which, according to www.Old Breweries.com, operated in The Dalles from 1869 to 1875.
The website describes the Columbia Brewery as having closed "before it was succeeded by Eastern Oregon Brewing Co." "These types of unknowns are usually cased by poor record keeping from periods around Prohibition or other turbulent times."
One caller suggested the building in the foreground, which is gone, served as a tasting room for the Columbia Brewery.
Stories this photo appears in:

From the archives of The Dalles Chronicle

From the archives of The Dalles Chronicle