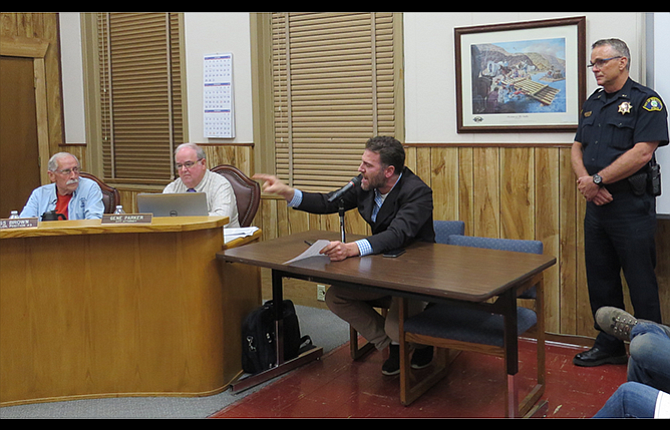 Joshua Farris, an Iraq war veteran, is shown during a diatribe against Mayor Steve Lawrence's announcement that audience members at Monday's council meeting would not be allowed to speak about staff recommendations to regulate the homeless population. Farris was escorted off the premises by Police Chief Pat Ashmore, right, and another officer after he began yelling at the elected body and refused to comply with the mayor's directive that he yield the floor.
Stories this photo appears in:

An Iraqi war veteran was escorted by police out of The Dalles City Council meeting Monday after he stridently accused the elected body of violating the free speech rights of the audience and the civil rights of the homeless. "I took an oath to defend the U.S. Constitution against all enemies, foreign or domestic," said Joshua Farris, a local resident who told the council he deployed to Iraq in 2003 and had also been stationed in Korea and Germany.