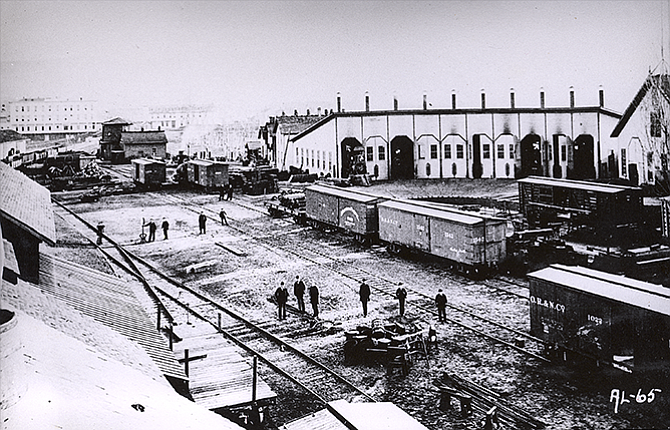 Lucile Stephens, Gary Conley, Terray Harmon and Gary Elkinton all contributed to this report.
Last week's History Mystery, above, was scanned from a collection of photographic prints gathered for a scrapbook in July, 1950, by The Dalles Camera Club. The collection "depicts photographically the history of The Dalles, Oregon," according to the album's introduction.
Information on the photographs was provided by Fred W. Wilson. The caption on the photo above reads, "The O.W.R. & N. Shops — Prior to 1889, when they were removed to Albina, the O.W.R.&N. maintained its principal shops at The Dalles and they were a large factor in the industrial life of the community, a large number of men being regularly employed. This picture shows the roundhouse, the front of the machine shops and the commissary buildings behind the roundhouse. In the distance are the Umatilla and Columbia Hotels. In the first group the figure to the left is C.C. Hobart, for many years the Master Mechanic. The remaining five are probably foremen of the different departments."
Gary Conley noted the railroad yard was moved to its current location around 1916. "Not too long ago you could see where that turntable was in there," he said of the early location, near where Hattenhaurs is today, behind the post office.
Stories this photo appears in:

From the archives of The Dalles Chronicle

From the archives of The Dalles Chronicle