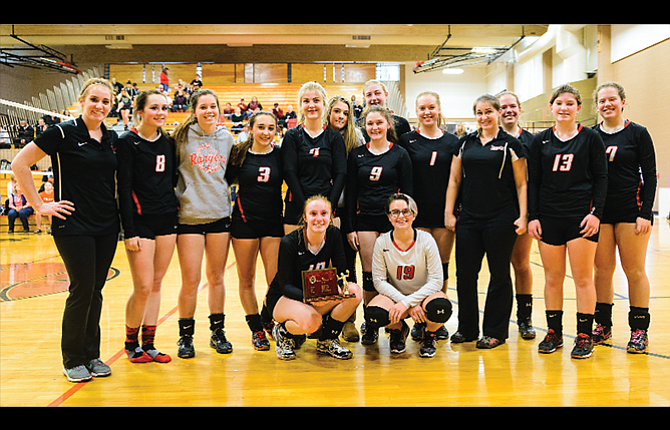 Dufur Ranger volleyball advanced to the state sub-round level after a runner-up finish at districts this past weekend in Moro. The Lady Rangers defeated Ione, but lost to SWC in the finals. In the photo are, from left, head coach Kristin Whitley, Sydnee Byers, Zoe Hester, Alexus Outlaw, Haili Wolf-DePriest, Kalie Ellis, Mikayla Kelly, Kayla Bailey, Katie Beal, assistant coach Dezirah Remington, Maddie Smith, Trinity Blake and Reghan Smith. In the front row are, from left, Chloe Beeson and Aleksei Uhalde. Dufur hosts Griswold in a state sub-round match at 6 p.m. on Wednesday.
Stories this photo appears in:

The Dufur Rangers vaulted into the championship round after a 25-18, 25-19, 25-9 three-set sweep over Ione on Saturday, as the team dropped 19 aces, and Chloe Beeson had eight kills, three aces and four digs.