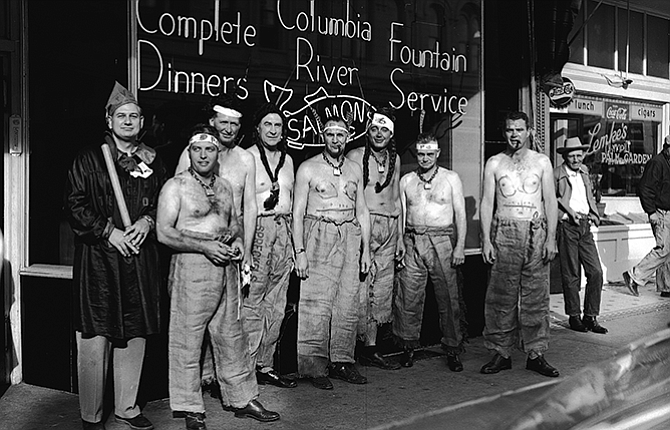 Terray Harmon and Pete Kelly contributed to this report.
Last week's History Mystery, above, was scanned from a 4- by 5-inch black-and-white negative from the archives of The Dalles Chronicle. Information on the envelope reads, "Optimist. Forty-et-eight, Mid-Columbia Voiture wreck, Saturday, Sept. 10, 1949."
Terray Harmon noted that the men are standing in front of a storefront in the 100 block of W. Second Street, where Sears is now located. The business in the background is a honkytonk/tavern named Lemke's Palm Garden. The sign above the window reads, "Lunch, Enjoy Coca-Cola, Cigars."
Pete Kelly said the shirtless man on the far right, with a cigar, is his dad, Ray "RHL" Kelly. "They were being initiated into a veterans service organization, the Forty-et-eight," Kelly said. There were a lot of fraternal organizations at the time, many made up of World War II veterans, he explained.
Stories this photo appears in:

From the archives of The Dalles Chronicle

From the archives of The Dalles Chronicle