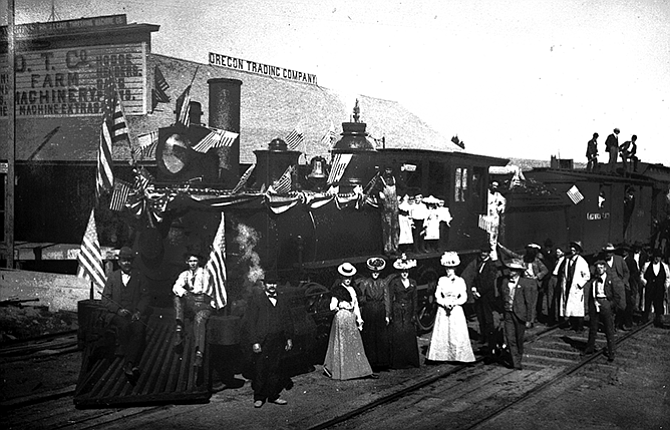 Terray Harmon, Randy Hilderbrand and Gary Conley contributed to this report.
Randy Hilderbrand of Wasco said he also has a copy of last week's History Mystery photo, above, a historical photograph copied in camera by a Chronicle photographer in 1972.
Hilderbrand said his copy was labeled as being taken on the Fourth of July in the city of Wasco. The woman in white was his grandmother, Lois Hilderbrand, who is standing with her sister Marie Barnett Cooper in the white dress hat.
Cooper was the first woman banker in Oregon, which she opened in 1917, said Hilderbrand, and she was also the first woman auto dealer in Oregon. Both busineses were in the city of Wasco.
Gary Conley said the train was on the Columbia Southern line, which was built around 1900 and also served Shanico and Grass Valley. "It only went to Kent when I was working," Conley said. "I went to Grass Valley branch a lot of times, and the Shanico branch," he said. The line was washed out in a flood in 1964 and was abandoned, he added.
Stories this photo appears in:

From the archives of The Dalles Chronicle

From the archives of The Dalles Chronicle