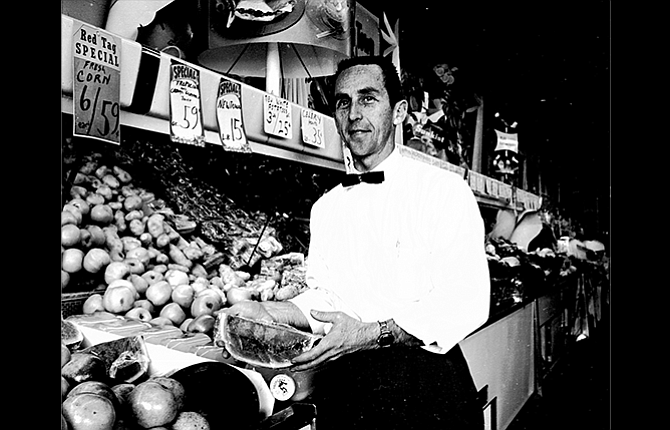 AnnBell Isaak, Dee Hill, Jake Grossmiller, Jack LeBreton, Larry Thomas, Helen Madsen, John Shearer, Diana Weston, Louise and Debbie Wooderson, Alene Thille, Bob Fraley, Roger Alford, Charla Fraley, Tonya Madsen, Virgil Choate, Chris Madsen and Terray Harmon all contributed to this report.
Last week's History Mystery, above, was scanned from a 2¼- by 2¼-inch negative from the archives of The Dalles Chronicle. Information on the envelope reads, "Westgate Super Market, May 7, 1963."
Pictured is Ralph Madsen, co-owner of the market, standing at the produce counter. The store was located on Chenowith Loop, now next to the transportation center, and is currently unoccupied.
Virgil Choate wrote, "Madsen was owner of Westgate Market near Chenowith Elementary School. His partner was Wally Kruger. Ralph was the first president of The Dalles Rodeo Association, which started what became the Fort Dalles Rodeo at the Fort Dalles Riders club grounds. I am the only living officer of Rodeo Assoc.Officers were President Ralph Madsen; Vice-President Ralph Bak; Secretary Virgil Choate; and Treasurer P Everett Curtiss.
"I remember Ralph well, he was very dedicated to making The Dalles area recognized and a better place to live and to operate a business."
Alene Thille wrote, "When my family moved to The Dalles in 1956 the market was a small store on the south end of the bowling lanes. Later they built the larger Westgate Market, which was in business until just a few years ago."
AnnaBell Isaak said she shopped at the store for many years, from back in the early 1960s.
Craig Madsen, Ralph Madsen's son, said, "I grew up in that store."
Jake Grossmiller described Madsen as one of the city's founding fathers, who was very involved in the civic leadership of the town and helped start the local rodeo.
Jack LeBreton said Madsen was his first employer. "I worked for him in high school," said LeBreton, who is now 66.
Diana Weston was right on the money with her guess as to the date, which she judged from the price of corn as seen in the photograph.
Roger Alford added that Madsen owned a lot of stores in The Dalles.
Tonya Madsen said that she was thrilled to see a picture of her grandfather in the paper, and the picture was being emailed to many family members. "We love it," she said.
Stories this photo appears in:

From the archives of The Dalles Chronicle

From the archives of The Dalles Chronicle