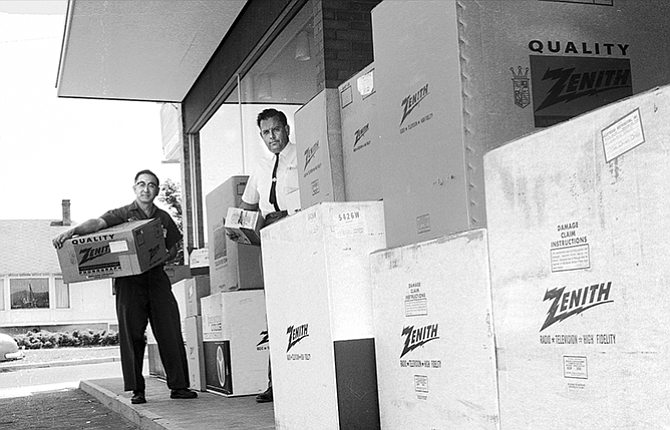 Sharon Hull, Karen Kulvi, Helen Madsen, Michael Houser, Gary Hertel, Gary Elkinton, Charla Fraley, Lucile Stephens, Mike, Ed Goodman, Jake Grossmiller, Diana Weston, Gary Conley, Dawn Johnson, Jim Porter and others contributed to this report.
Last week's History Mystery photo, at right, was taken for The Dalles Chronicle in June of 1965. The location is W. 9th and Garrison.
Harry Morioka, on left, was owner of Harry's Radio, which moved to W. 9th. St. and named the shop "Harry's Radio and TV." He had a partner, Vic Hinatsu.
At right is Bob Hodges. His son, Steve Hodges, wrote: "Just got the Sunday paper and was pleasantly surprised to see my dad, Bob Hodges, standing alongside one of his best customers, Harry Morioka. My dad was a wholesale distributor for Electrical Distributing featuring Zenith products. One of his favorite customers was Harry, who owned Harry's Radio and TV on West 9th. Cool!" Terray Harmon noted that Morioka was in an internment camp during WWII, and the shop would repair anything, even a toaster. "We didn't throw things away back then," he said.
Harry's quality repairs were mentioned by many.
Stories this photo appears in:

From the archives of The Dalles Chronicle

From the archives of The Dalles Chronicle