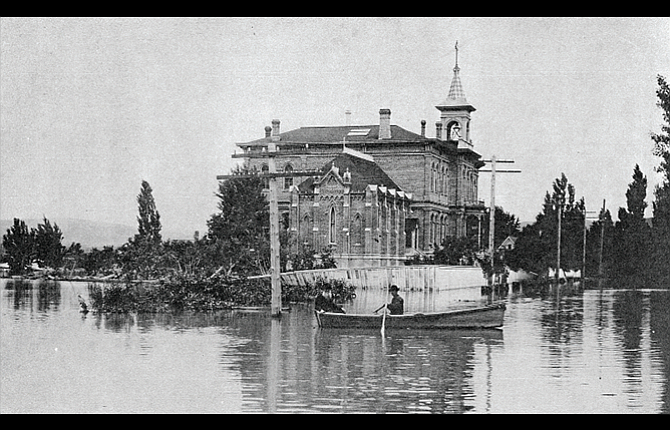 Carolyn Homer, Pat Fowler, Gary Elkinton, Helen Madsen, Terray Harmon, Linda Holcomb, Carolyn Wood, Barbara Telfor, Gary Conley and Lucile Stephens all contributed to this report.
Last week's History Mystery, above, shows the back side of the old St. Mary's Academy in the "Great Flood of 1894." The photograph is from the digital archives at The Dalles Chronicle.
Helen Madsen correctly identified the building in the background as St. Mary's Academy, and said that her class was the last to graduate from the academy before it was moved to its present location at 10th St. and Cherry Heights Road.
Carolyn Wood said the part of the building showing most prominantly was the chapel.
Barbara Telfor said that when she was a kid, she attended sunday school classes there. "It was a beautiful building," she said.
Gary Conley said he used to slide down a big, spiral slide at the academy, which was north of St. Peters Landmark, where the gas station, bakery and Community Meal is located now.
Lucile Stephens said she remembered the building well, having attended the academy for five years.
Stories this photo appears in:

From the archives of The Dalles Chronicle

From the archives of The Dalles Chronicle