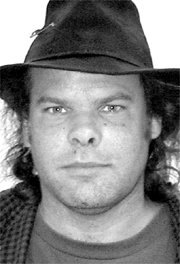 Mark B. Gibson is staff photographer at The Dalles Chronicle. He is also managing The Dalles Chronicle website.
Recent Stories
District to consider new rink at site of old skatepark The roller hockey youth league sponsored in recent years by the Northern Wasco County Parks and Recreation District will not compete this year due to a decline in participation, and the district will take advantage of the lull to explore a new site for the rink currently located at Riverfront Park.

Mid-Columbia Fire and Rescue crews quickly contained a small wilfire along Chenowith Road Friday afternoon, May 10.

Sport salmon fishing is closed on the Columbia River, but tribal subsistance fishing is going strong near Rufus and elsewhere.

The new plantings were made after the offices were recently expanded, and Wesseler hopes to create a dendrology tour area in what was once a large lawn.

Kids with bikes and dirt piles have long attracted one to the other, and the Wasco County Parks and Recreation District is investigating the possibility of creating an official "pump park" at Sorosis Park in The Dalles. A "pump park" is a low speed dirt track in which the bicycles are "pumped" over jumps and other features.

Photos from the Northwest Cherry Festival Lip Sync Contest April 26.
North Wasco County Park and Recreation District voters will be asked in November to fund a new swimming pool to replace the failing facility at Thompson Park. The "bare bones" bond proposal will seek money to replace the pool, the whole pool, and nothing but the pool.

An Evening with HAVEN Thursday night, April 11, in the ballroom at the Civic Auditorium in The Dalles was well attended. The annual benefit for the local group that works against domestic violence features the best appetizers from local chefs, music, drawings and local wine.

Photos from Saturday's robotics workshop at Collumbia Gorge Community College.

The 12th annual Griffith Motors Easter Egg Scramble at Sorosis Park Saturday, March 30. The Easter Bunny and Tooth Fairy were on on hand at the event, hosted by Bicoastal Media.