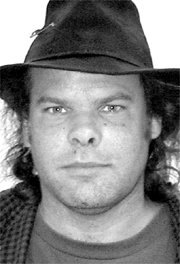 Mark Gibson is News Editor, with RaeLynn Ricarte. He is also staff photographer and manages the website, www.thedalleschronicle.com.
Recent Stories
Cost per credit rises by $2, general fees by $3

When it comes to natural health products, Amanada Ramey doesn't need to tell you she has a passion for them, it's evident in every word she says. "I've seen the difference it makes in my families health," she explains. "I want food like my grandparents ate."

An injury accident was reported at Mount Hood and 9th streets Saturday, March 28, 2015. A vehicle appeared to have been stuck in reverse.

According to OSP Lieutenant Pat Shortt, at approximately 8:25 a.m. Monday, March 16, Wasco County Sheriff's Deputies arrived at 1100 Mt. Hood St., in The Dalles, to serve civil papers on the resident living there. As deputies knocked on the door gunshots were heard from within and deputies fell back and requested additional police to respond. Officers arriving at the scene created a perimeter and attempted negotiations with the occupant. Shortly thereafter, smoke began to come from inside the residence.
Ministry is the 'feet and hands' of Jesus Christ

Chris Mumford, owner of Hearthwarmers Firewood in The Dalles, has sold his operation to Andew Mason, owner of Andrew Mason Tree Service, LLC of Lebanon.

Some geologists have calculated a 10 to 14 percent probability that the Cascadia Subduction Zone off the Oregon and Washington coast will produce an earthquake event of magnitude 9 or higher in the next 50 years. Others suggest that this risk could be as high as 37% for earthquakes of magnitude 8 or higher. Such a quake could generate a 50-foot tsunami.
Officials grapple with projected $2.4M deficit

Westwind Frame and Gallery, 412 E 2nd St, The Dalles, now offers the full range of pricing and services of both Westwind and Crown Prints under one roof, according to owner Marty Hiser.

Mayor attends century celebration