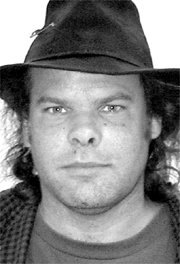 Mark B. Gibson is staff photographer at The Dalles Chronicle. He is also managing The Dalles Chronicle website.
Recent Stories

Photos from Wednesday night in The Dalles, as Rowena Fire approached west end of town.

Fire crews are battling a wind-blown wildfire ignited late Tuesday, Aug. 5, approximately one mile east of Rowena.
Crews from the Dallesport Fire Department extinguish a blaze between The Dalles Airport and Highway 14 Sunday afternoon. It was one of several fires started by a rash of lighning strikes in the area. All photos Mark B. Gibson

Al WYNN, owner of KODL Radio in The Dalles, hands out a certificate of appreciation and gift card for services to veteran David McGaughey at the Hometown Heroes segment of Fourth of July festivities. Mona Fox, operations manager, said the broadcast center wanted to honor the men and women who had defended America's freedoms during the Independence Day celebration. She said local merchants came foward with generous donations for the 15 veterans who were present to accept awards, along with their families. Mark B. Gibson photo

Fort Dalles Fourth celebrations, a photo gallery.

Crews from Mid Columbia Fire and Rescue and Dallesport fire stations quickly extinguished a brush fire on lower Mill Creek Saturday morning, July 5.

Photos from the talent portion of the Distinguished Young Women program April 12, 2014.

Volunteers help revive habitat for native plants and animals

Contents reflect 1940s era

Firefighters extinguished a fire in the back of a house at 4509 Chenowith Road Tuesday morning.